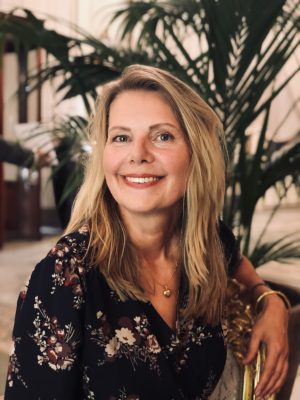 Are you planning a kick-off, a conference, a wedding?      
Thinking about surprising your guests with an unforgettable experience to share and remember for a long time to come?  Maybe you want to help your employees to think "outside the box" and feel creative at your conference. Give them something new and unexpected.
   Here is the real surprise!
Imagine the new director slightly different and a bit confused who makes a speech during dinner. How will your employees react?                      Margareta is the mystery guest you never forget.

guerillafilmed samples:
Maersk line, in English and a little French
as the new researcher at the gambling addiction faculty. Expressing positive effects of casinos, in English
Göteborgsregionens Kommunalförbund, in swedish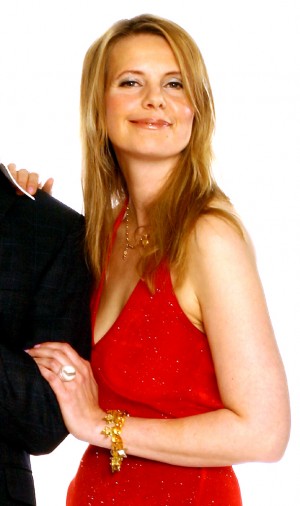 My name is Margareta. Known in Sweden as Maggan Hammar, comic and actress. I have lived in New York, Paris och Los Angeles. Have been seen in StarTrek, Seinfeld, Benny Hill show.
For the moment Im living in Stockholm.
Following clients request Im now performing with my own special; "the secret guest". Who makes "some shaking up" helping people to think outside the box. A big hit in every kind of venue.
The set-ups are many and special designed for your event. I will arrive to the mingel just as a normal guest among others.
Someone from the management introduces me as their newly hired talent when welcoming the guests. During the dinner I make a speech. Presenting myself and how you will get even better in your business. While people start sweating in their chairs. My speech will reveal my true identity as a professional comic and probably not a new employee to the great relief of some..or disappointment?
Innovative standup comedy with custom-made scripted speech that makes everyone breaking up in laughter.
The set-up and script is always in agreement of the client. Who help me with info about some guests to mention in my speech.
I speak fluently English and French. And of course Swedish which is my native tongue.
Unpredictable entertainment as its best!
TV satire
The hairdresser convention,
The new communicator 
Jewish wedding
"Maggan Erixon, the new employee talks about herself at the corporate kick-off dinner,
Some reviews:
"Thanks for a fantastic performance! And if I was your manager I would make you a multibillionaire." – Gudbrand Ruud. CFO/realestate agent. EiendomsMegleren1.
" What a Success! Tack! " – The Swedish Club London, Lars Nilsson, Senior Manager Reinsurance, Underwriting, Reinsurance & Risk Control.
"The effect of creating an embarrassment that for Swedes is very difficult to handle to the realization that this must have been arranged worker very well. We were only a few who knew what would come and it was worth it. It was much appreciated. Good work! Thanks again"  Swedbank ROBUR
Thank you very much for a very good entertainment, everyone talks about how funny you were and how this will be the talk of the future. "Sakar Mustafa – Maersk Line
There were many who were very disappointed afterwards when they realized that you were not at all our newly employed Strategic Communicator! – Gohtenburg Local Authorities
Maxi thank you for lifting the evening in an unconventional way. You created doubts about the management's ability to make decisions that are good for the company you would help. The concern and mistrust turned to laughter and joy that will be spoken for a long time. You in a personal way made the evening unforgettable. Again thank you and continue to shake people in your own way."Peter, Maxi Köping
Call Maggan if you want your guests to get wail of laughter in the middle of the main course! When I first heard Maggan at a party I didn't think it was true: But wasn't this Catherine's friend – she seems completely crazy – is there anything wrong with her? She should do this professionally – but she is already a pro! Totally fooled –  I couldn't stop laughing..  – Ann-Charlotte Valejo
I laughed so I got pain in laughing muscles – wonderful! Many thought you were the newly appointed lawyer in Härnösand. They got serious thoughts about who we had hired! – Marie Juhnestam Bimer – Work Environment Authority
I would like to thank you very much for your efforts and your commitment during our strategy days. You stepped into the arena during the pre-dinner drink and you did it in a fantastic way. You performed your role in a brilliant way and there was a lot to gather around and talk about after your effort. I want to make the best recommendations for what you do. – Christer Söderberg CEO Swecon Anläggningsmaskiner AB
You were wonderful and the best! I hope to experience you again because this was among the most fun I have ever experienced. – Anna-Karin Deinoff HR Specialist, Gothenburg
You really gilded our 50th anniversary! We didn't know if we were laughing with you or at you and it was just that shaking in between that made it so very funny. And when the last token fell down you were a given topic of conversation at the dinner tables – Henrik Carlsson CEO  Infranordic Shipping & Forwarding AB Gothenburg, Sweden
"Maggan made a smash success at our convention. She fooled everyone and then gave an highly acclaimed "standup" that we will never forget!" – Staffan Westman. Vise CEO, Chief Executive, The Hair stylist federation.
"The girl from the village out on adventure in the big world" makes it a hit to everyone" – Morgan Persson, Chief Executive, Monitor industrydevelopment AB.
"Margareta Hammar is a very funny and beautiful artist who creates a uniquely charming atmosphere around her in which you will want to reside."- Dr.Susan Raeburn, Psychologist and author, Berkeley, California.
"Maggan est soudain apparue comme invitée mystère supposée avoir été très récemment engagée dans notre top management. Personne ne la connaissait bien sûr mais elle a réussi à duper l'ensemble des personnes présentes et nous faire, les uns après les autres, tous éclater de rire. Pour ma part, mes collègues (…et moi-même) ont grâce a Maggan soudain découvert tous mes secrets (véritables et imaginaires), absolument tous les tabous sociaux ont été balayés par son incroyable humour et talent de comédienne.
Un one woman show absolument extraordinaire!!" – Pierre-Eric Papos. Sales Executive. Safmarine Sweden
Some samples of characters Maggan has played includes:
– the ex-girlfriend from the past who shows up at a dinnerparty.
– the immigration officer stepping into a wedding dinner informing American guests about Swedish customs.
– the tour guide making everyone wonder where they are heading..
companies in Sweden include: Kinnarps, SvT Play, Folksam, Swedbank, Swecon, BB Stockholm, Maersk line, Monitor Industriutveckling AB, EIO, Amendo bemanning,  The Swedish Club Göteborg, Crowe Horwath, L'Oreal, Ikea, Mercedes Benz Sverige AB, Bring frigo, Edsbyn Red Farmers, The Swedish Club London, Cancerfonden, PwC, C&M projekt AB