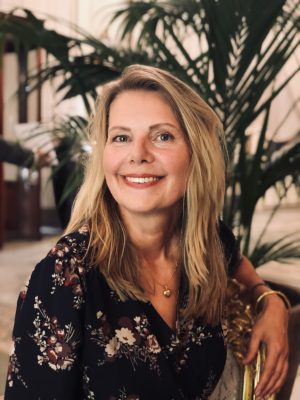 Are you planning a kick-off, a conference, a wedding?       
Thinking about surprising your guests. Maybe with an unforgettable experience to share and remember for a long time to come?  Maybe you want to help your employees to think "outside the box" and feel creative at your conference. Give them something new and unexpected!
Maggan Hammar is the guest you will never forget.                
Here is the real surprise.  

Maggan making dinnerspeech at corporate parties: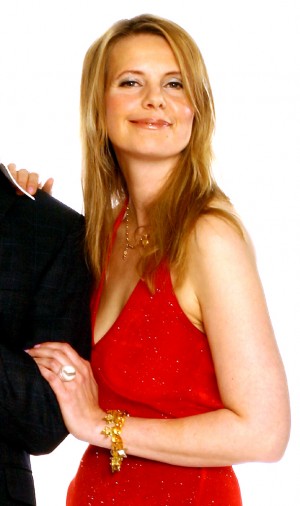 My name is Margareta Hammar. Im coming from the north of Sweden, Edsbyn. I am a comedian and an actress. During 17 years I have lived in New York, Los Angles and Paris. Have been seen in StarTrek, Seinfeld, Benny Hill show. My base is now in Stockholm.
After special wishes I have developed my own niche.  Unexpected entertainment with me playing a character; for example the newly hired communication CEO at your company, slightly confused..
A big hit!
The possibilities of setups are endless, together we choose the plan specially created just for your event.
I might join the event as a guest among others in the mingle before dinner. Floating around just being pleasantly myself.  Im being properly introduced as the new recruitment in your welcome speech to your guests. To avoid any confusion..
During the dinner I make a speech while the guests start to squirm in their seats. My speech will eventually reveal my true identity as a professional comedian and probably not the the employee. To the great relief of many..or disappointment?
Extraordinary stand-up comedy with tailored script for the occasion that makes the audience burst into laughter.
At our initial contact we first discuss various set-ups before agreeing what will work best for you. Following your information and wishes I begin building my script that starts off on a serious note. Thankful for this opportunity I would like to introduce myself and make an impressive presentation of my international background and how to lift your business into new levels.
Its always appreciated to give special thanks to some of your guests including them in some of my jokes.
I speak fluently english and french. Perfect for the international crowd.
Unexpected entertainment as its best!
"We were very disappointed to realize you were not our newly recruited strategic communicator." – The local government federation of Gothenburg.
" I laughed until my laugh muscular attachments were in pain – wonderful!  Many believed you were the newly appointed lawyer in Härnösand." – Marie Juhnestam Bimer, The Swedish Work Environment authority.
"Thx again for a fantastic performance! And if I had been your manager I would make you a multimillionaire.– Gudbrand Ruud,CFO/realestate agent, EiendomsMegleren1.
"Maggan made a smash success at our convention. She fooled everyone and then gave an highly acclaimed "standup" that we will never forget!" – Staffan Westman. Vise CEO, Chief Executive, The Hair stylist federation.
"Million thanks for great entertainment. Everybody talks about how funny you were and how this will become the topic of our conversation for a long time ahead". – Maersk line.
"We are very pleased with your performance last week which was a perfect combination of confusion and discomfort which later transformed into humor. The effect of creating embarrassment (which for us Swedes is very difficult to handle) to the realization that this must have been arranged worker very well. We were extremely few who knew what was happening and it was worth it. It was very much appreciated. Well done! Thanks again." Swedbank Robur.
"You came in and you blew us away!" –  Christer Söderberg, CEO Swecon AB
" What a success! – Lars Nilsson, Senior Manager Reinsurance, The Swedish Club. London.
" One of the chief executives took me aside and wondered how I could have taken that woman in. I played along, and must say I was worth nothing at that moment. I became all the more appreciated afterwards. You did a phenomenal achievement and the party became different, just as we wanted." – Hans-Ove Ekman, Chief Executive IR, Q-Park.
"The effect I wanted was perfect. Many picked it up rather quickly, while other were still sitting and sweating. Your show was very entertaining and the fact that you elevate "The girl from the village out on adventure in the big world" makes it a hit to everyone" – Morgan Persson, Chief Executive, Monitor industrydevelopment AB.
"Her hilarious quirky humor makes Maggan stand out among the standup comedians." – Catharina, Leva magazine.
"Margareta Hammar is a very funny and beautiful artist who creates a uniquely charming atmosphere around her in which you will want to reside."- Dr.Susan Raeburn, Psychologist and author, Berkeley, California.
"Maggan is one of my absolute favorite comedians. Totally unpredictable, she brings her audience on a trip inside the humanity which both tickles and worries the gut. Just what it should be like watching great comedy"- Petra Mede
"An almost psychadelic experience and a phenomena. Maggan is a refreshing mixed cocktail of stream of consciousness, offering contemporary reflections, playfulness, and sheer madness." – Lukas Duczko
" You made our party! Our head office is interested in booking you for next year's convention of the hair stylist federation." – Anna-Carin, Chairman of the Hairstylists League.
"Maggan est soudain apparue comme invitée mystère supposée avoir été très récemment engagée dans notre top management. Personne ne la connaissait bien sûr mais elle a réussi à duper l'ensemble des personnes présentes et nous faire, les uns après les autres, tous éclater de rire. Pour ma part, mes collègues (…et moi-même) ont grâce a Maggan soudain découvert tous mes secrets (véritables et imaginaires), absolument tous les tabous sociaux ont été balayés par son incroyable humour et talent de comédienne.
Un one woman show absolument extraordinaire!!" Pierre-Eric Papos. Sales Executive. Safmarine Sweden
Some samples of characters Maggan has played includes:
– the ex-girlfriend from the past who shows up at a wedding.
– the immigration officer stepping into a wedding dinner informing American guests about Swedish customs.
– the international spaced-out midwife.
– the tour guide making everyone wonder where they are heading..
Some companies in Sweden include: Kinnarps, SvT Play, Folksam, Swedbank, Sweco, BB Stockholm, Maersk line, Monitor Industriutveckling AB, EIO, Amendo bemanning,  The Swedish Club Göteborg, Crowe Horwath, L'Oreal, Ikea, Mercedes Benz Sverige AB, Bring frigo, Edsbyn Red Farmers, The Swedish Club London, Cancerfonden, PwC, C&M projekt AB